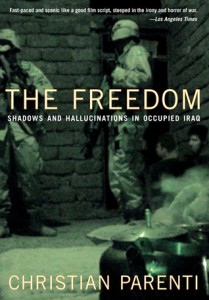 It finally happened.  They did it.  After weighing the odds in Iraq, the best minds of the U.S. establishment put all their chips on black, spun the roulette wheel of history, and watched in horror as their number came up bright arterial red.  Now the best-trained and best-equipped military on the planet finds itself fighting the only type of war for which it was unprepared: a highly politicized, media-saturated, urban counterinsurgency.  As casualties mount and the chaos of occupation drags on, American troops in Iraq discover there is no plan B.
The Freedom provides a fearless and unsanitized tour of this disaster in all its surreal and terrifying detail.  Drawing on the best tradition of war reporting, here is a book that "embeds" with both sides – the U.S. military and the Iraqi resistance.
Acclaimed journalist Christian Parenti takes us on a high-speed ride along treacherous roads to the centers of the conflict in Fallujah, Ramadi, and Sadr City.  He introduces us to relatives waiting anxiously outside the hulking fortress of Abu Ghraib and takes a night drive around Baghdad with the insurgents.  He recounts the military's use of drugs and prostitutes, the imperial buffoonery of the Green Zone, and the religious ecstasy of the Shiites.  And he allows us to witness, close up and in riveting detail, the cataclysmic violence, rampant gangsterism, and quotidian heroism that is today's Iraq.